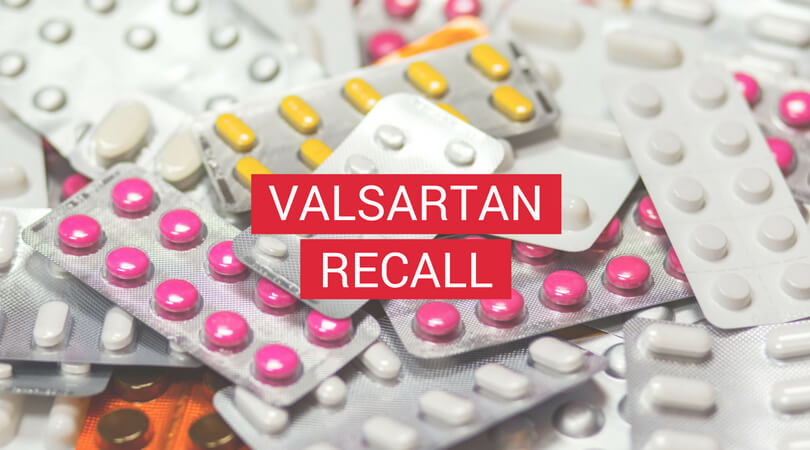 Since last summer, there have been steady reports of drug recalls involving a common blood pressure medication, valsartan. Those drugs have been linked to cancer. Upon hearing of the link to cancer, many patients may consider dropping the medication immediately. However, doctors say that patients with high blood pressure should not stop a medication without consulting a doctor or a pharmacist.
In July, the FDA announced the recall of several versions of valsartan over concerns that the drugs had an impurity which could possibly cause cancer. Since then, a handful of other recalls have followed, all of which involve drugs that contain valsartan. All of the affected drugs contain an impurity called N-nitrosodiethylamine, which is a possible human carcinogen. The recalled drugs all work by widening or relaxing blood vessels, which lower a person's blood pressure. They are recommended as first-line therapy for high blood pressure.
Experts say that although the drugs containing valsartan have been recalled, there are still other options for patients. There may be other versions of the drug that have not been recalled. Many patients are prescribed an ACE inhibitor instead of a product containing valsartan. Small numbers of patients who take ACE inhibitors may develop a cough. If that occurs, other drugs may help.
The conditions which the recalled drugs treat are serious enough that despite the recall, patients should not stop taking the medications without talking to a doctor. It can often be more dangerous to stop the medications than to continue taking them. If you are concerned that you have been harmed by a dangerous prescription drug, you may wish to talk to an attorney. Call the Houston prescription drug recall attorneys at Kennedy Hodges at 855-947-0707. We can help. You can learn more about the firm on our YouTube channel.