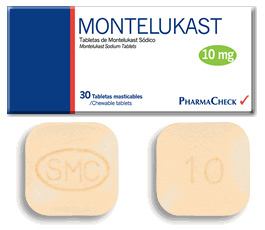 A common medication which is typically prescribed to treat asthma symptoms has been voluntarily recalled by the company because of a potentially dangerous labeling mistake. The drug is called montelukast, and the pills that were recalled are 30-pill bottles of 10 milligram montelukast tables. Montelukast is a generic form of Singulair.
Those pills were found to contain losartan, which is a medication that is prescribed to treat high blood pressure. Montelukast pills are beige and a rounded square shape, with an "I" on one side and "114" on the other side. Losartan tablets are white and oval shaped and have an "I" on one side and a "5" on the other.
Montelukast is used to treat symptoms of asthma, which can be life-threatening if not treated. Those symptoms include wheezing, difficulty breathing, coughing, and chest tightness. The drug is often used in conjunction with medications that provide quick relief. Losartan is prescribed to help treat high blood pressure or to prevent strokes. Potential side effects of losartan include low blood pressure, high potassium levels, and kidney dysfunction. Losartan is particularly dangerous for pregnant women.
Although most prescription drugs are safe for their intended uses, mistakes do occur. In this situation, the mistake occurred in labeling. Patients are entitled to the drugs their doctors prescribed. If you or a loved one has had a reaction due to an error with a prescription drug, you should speak with an attorney. Call the personal injury attorneys at Kennedy Hodges at 855-947-0707. We can help. Call us today to learn more, or visit our
YouTube channel
.