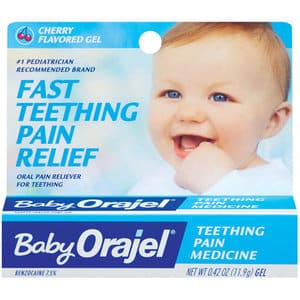 The FDA recently issued a warning to consumers to stop using some over-the-counter teething products that contain benzocaine. The FDA also sent letters to manufacturers asking them to stop selling the teething products.
Teething products containing benzocaine do temporarily relieve teething pain, but according to the FDA they pose a "serious risk" to infants and children. They are also often not effective for long, since they can quickly wash out of the child's mouth.
The danger posed by the teething products is methemoglobinemia, which is a condition in which the oxygen levels in the blood dip dangerously low. Methemoglobinemia can be fatal. Symptoms include pale skin, blue or gray fingernails, rapid heart rate, headaches, lightheadedness, difficulty breathing, and sleepiness. The symptoms can start immediately after the product is used or up to two hours later. Infants and toddlers who experience those symptoms should seek medical attention immediately.
The FDA announced that if the companies which make the products do not stop selling them voluntarily, it will take legal actions to halt the sales. In addition, the FDA announced that it will require prescription local anesthetics for teething children to update their warning labels to let parents know the could lead to methemoglobinemia. Some of the common products containing benzocaine include Anbesol, Baby Orajel, Cepacol, Chloraseptic, and Orajel.
The FDA has warned about benzocaine in the past. In 2011, it warned consumers about its dangers, and estimated there have been more than 400 cases of methemoglobinemia caused by benzocaine since 1971. In 2016, the FDA also warned parents not to use homeopathic teething tablets and gels.
If you believe that your child has been harmed by a teething product or another over-the-counter or prescription drug, you should speak with an attorney. Call the personal injury attorneys at Kennedy Hodges at 855-947-0707. We can help. Call us today to learn more or to schedule a free consultation, or visit our Facebook page to learn more.