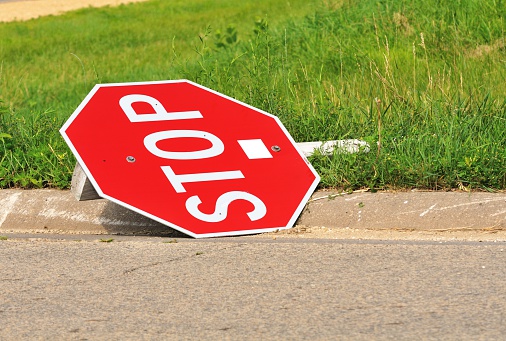 A woman was killed over the weekend in a Houston crash that was likely caused by a fallen stop sign. The woman was a passenger in a Toyota Corolla, which was hit by an SUV at the intersection of Jefferson and Hackney.
According to an eyewitness, the driver of the SUV was not familiar with the area, and did not know there was supposed to be a stop sign. The stop sign that is normally at the intersection was likely knocked down by high winds, but it was most likely already damaged before it fell down. It is unclear if the SUV's driver was speeding, but she has not yet been charged.
It is unclear how long the stop sign was missing before the accident occurred. Tragic accidents like this can be avoided if city, county, and state officials take actions to ensure that public safety is a top priority, which includes keeping streets in good repair, and taking actions to repair any damaged signs or traffic lights. If a person is injured in an accident as a result of a local or state municipality failing to take proper action to keep the streets safe, the accident victim can sue for damages.
If you have been injured in an accident which you believe was the result of a governmental entity failing to take proper precautions, you should speak with an attorney. You may be entitled to compensation for your injuries. If you are in the Houston area, call the Houston personal injury attorneys at Kennedy Hodges at 855-947-0707. We can help. Call us today to learn more or to schedule a free consultation on your case.